Tuesday, September 25, 2007
Exhibit Features Works by John R. Cleary October 9-November 11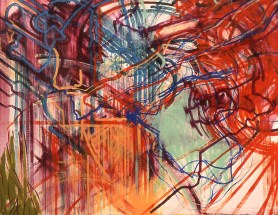 SALISBURY, MD---John R. Cleary dedicated his life to art.
That dedication, spanning more than 40 years, is the guiding force of the new exhibit "John R. Cleary, a Retrospective: Ideas and Images," October 9-November 11 in the University Gallery of Fulton Hall. A reception is 6-8 p.m. Friday, October 12.
In addition to the exhibition, Cleary leads an artist's talk with accompanying PowerPoint presentation led by Cleary in Fulton Hall Room 111 6:30-8 p.m., Thursday, October 25. The artist examines the span of his work and analyzes its evolution. His sources of inspiration range widely, from the human figure to computers.
Cleary began teaching at Salisbury University in 1975. He received a fellowship from the Mid-Atlantic Art Foundation in 1994, and his art has appeared in over 200 exhibits. Cleary is also a cofounder of the Cavallaro Cleary Art Foundation (CCART), a non-profit organization providing scholarships and education in the arts.
The abstract paintings on display have their its roots in his early experimental works of the mid-1970s, which explored the limits of traditional design and his new interest in the painting. As his style matured, Cleary took a greater interest in architecture and began to incorporate elements of blueprints, charts, and architectural theory into his paintings.
Continuing to innovate into the 1990s and today, Cleary has made an effort to make the act of painting more clearly defined in the finished piece. His current work integrates all of his past techniques.
Gallery hours are 10 a.m.-4 p.m. Tuesday-Friday, noon-4 p.m. Saturday-Sunday. The exhibit is free and the public is invited. For information call 410-548-2547.