Thursday, July 5, 2007
Cavallaro, Ward Museum Earn SWAC Appreciation Awards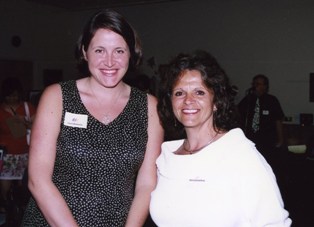 From left: Lora Bottinelli, interim director of the Ward Museum of Wildfowl Art, and Marie Cavallaro, SU Art Department faculty
SALISBURY, MD---Encouraging artistic expression as a vital part of society and culture, the Salisbury Wicomico Arts Council recently awarded 2007 Appreciation Awards to Marie Cavallaro, a senior member and former chair of Salisbury University's Art Department, and to SU's Ward Museum of Wildfowl Art.
In 1999, Cavallaro co-founded the Cavallaro Cleary Visual Arts Foundation to fund scholarships and awards for local high school students who plan to pursue careers in the arts. She also founded the SU Art Department scholarship fund for freshmen and transfer students.
The Ward Museum provides educational courses, tours and seminars to allow people of all ages and experiences to learn about and appreciate art and local heritage.
The annual Appreciation Awards are presented to the individual, group or business that has played an important role in the arts community. The awards are generally given for long-term involvement rather than a single year's efforts.
For more information call 410-543-6030 or visit the SU Web site at www.salisbury.edu.