Tuesday, January 16, 2007
O'Rourke Earns 2007 Outstanding Administrator Award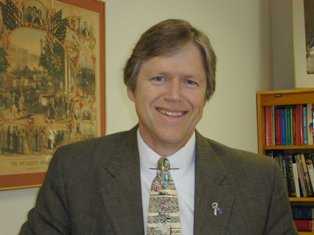 SALISBURY, MD---As dean of the Charles R. and Martha N. Fulton School of Liberal Arts, Dr. Timothy O'Rourke has influenced the lives of thousands of people both on and off the Salisbury University campus.
O'Rourke superintends SU's largest school, with nearly 2,000 majors and about 150 full-time faculty and staff. He also oversees much of cultural affairs programming and community outreach at SU.
In recognition of his work, the Maryland Association for Higher Education has chosen O'Rourke to receive one of its top honors, the 2007 Outstanding Administrator Award. He receives the prize during a conference in March.
"Dean O'Rourke has been highly productive in his position to the enormous benefit of his faculty, staff and students," said SU Interim Provost Tom Jones. "Salisbury University as a whole has gained enormously by having him among its administrative leaders."
Since taking the helm of the Fulton School in 2002, O'Rourke has implemented a series of innovations, including the Fulton Academic Charter for Excellence (FACE), which promotes academic integrity, greater student participation in undergraduate research, and improved safety policies. O'Rourke was a major advocate for Salisbury's pilot Cultural Laureates Program, offering students an incentive for attending cultural events. He also expanded liberal arts-based living learning communities as part of a Universitywide program for on-campus residents. He has pushed for comprehensive curricular reform and for improved support for faculty development. He initiated the campus' commemorative activities for 9/11 and Constitution Day.
Under O'Rourke's direction, the Fulton School has acquired equipment and rehabilitated space for the Art, Dance, and Theatre programs and upgraded computer technology and laboratory equipment for Psychology. O'Rourke encouraged the Department of Music's successful pursuit of prestigious accreditation from the National Association of Schools of Music. O'Rourke also has played a key role in the design of SU's new Teacher Education and Technology Center, set to open in fall 2008. The building will include, among other features, state-of-the-art TV, recording, and multi-media computer facilities for students in the Fulton School's Communication, Music and Art departments.
O'Rourke attributes the Fulton School's successes in recent years to a superb faculty and staff, a skilled group of department chairs, a supportive administration, and a system of highly consultative shared governance. O'Rourke meets regularly with department chairs, separate faculty and student advisory committees, and administrative staff. He also conducts a once weekly informal "Dean's Doughnut Dialogue" (D3, for short) with faculty, students and staff.
A voting rights scholar who served as executive director of the Virginia Commission on the Bicentennial of the U.S. Constitution from 1985 to 1992, O'Rourke has given two campus lectures, regularly teaches political science and honors courses, and twice performed as narrator with the Salisbury Symphony Orchestra.
For more information call 410-543-6030 or visit the SU Web site at www.salisbury.edu.