Friday, September 29, 2006
Crawford Receives Spirit of Salisbury University Award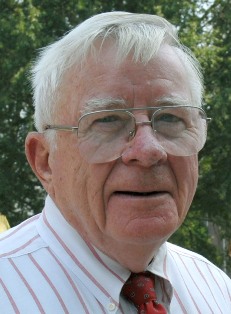 SALISBURY, MD---All presidents of Salisbury University have left their marks on the campus. Former President Norman C. Crawford, however, never stopped.
SU's President from 1970-1980, Crawford has been an avid Sea Gull fan for more than three decades, as well as a strong advocate of women's collegiate sports. SU honored his dedication with the Spirit of Salisbury University Award during a halftime presentation at the Gulls' Homecoming game against Morrisville State College.
This is the inaugural Spirit of Salisbury University Award, which is presented annually to select individuals who have made continuous and notable contributions to the mission, quality and character of SU.
During Crawford's time as president, enrollment more than tripled, and new academic programs were added. He oversaw construction of Maggs Physical Activities Center and the East Campus athletic fields, the expansion of the Blackwell Library and the opening of the Choptank, Chester and Chesapeake residence halls.
Under his guidance, SU fielded its first football team (in 1972) and men's lacrosse team (in 1973). Wrestling, golf, swimming, men's tennis, women's softball, track and cross country also were added to the athletic lineup. He was inducted into the SU Athletics Hall of Fame in 1998.
Following his time as President, Crawford continued to follow the Sea Gulls while working at colleges and universities from Missouri to Maine to New Jersey before returning to the Salisbury area upon his retirement in 1992. Since then he and his wife have attended most SU football and lacrosse home games and even travel to cheer on the Gulls when they play away. He is also a member of the Varsity Club and continues to support SU's development in the 21st century.
For more information call 410-543-6030 or visit the SU Web site at www.salisbury.edu.