Thursday, September 14, 2006
Iacuzio Earns Inaugural Topolski Family Scholarship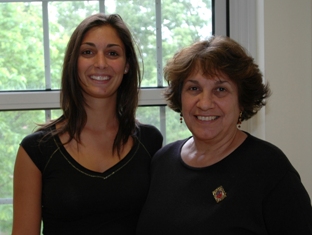 Sara Iacuzio, left, and Joann Topolski
SALISBURY, MD---Salisbury University senior Sarah Iacuzio, daughter of Ann and Dominick Iacuzio of Chatham, NJ, was recently awarded the Topolski Family Scholarship for 2006-07.
The scholarship was presented to Iacuzio at the annual SU Sociological Society picnic by Joann Topolski in memory of her late husband, Tony. Mr. Topolski was a local political activist who bequeathed scholarship monies to be awarded annually to the sociology major who best exemplifies a commitment to social justice and change through social action and involvement in civic life.
Iacuzio is a member of Amnesty International and a volunteer for the Homework Club at Salisbury Urban Ministries through SU's ShoreCAN Volunteer Center. She is a Dean's List student.
At Salisbury University some 7,100 students in 42 undergraduate and 11 graduate programs pursue liberal arts and professional degrees. Located on the Eastern Shore 30 miles from the Atlantic Ocean and 20 miles from the Chesapeake Bay, Salisbury is 2 ½ hours from Baltimore, Washington, D.C., Norfolk, VA, and Wilmington, DE. Among its peers, SU is ranked in the top 10 public universities of its kind in the North by U.S. News and World Report.