Monday, August 28, 2006
Jackson Inaugurates Fall Writers-on-the-Shore Series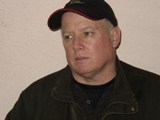 SALISBURY, MD---Poet Richard Jackson inaugurates Salisbury University's fall Writers-on-the-Shore series with a reading from his works 8 p.m. Thursday, September 21, in the Montgomery Room of the Commons.
Jackson has authored nine books of poems, including Half Lives: Petrarchan Poems, Unauthorized Autobiography: New and Selected Poems, Heartwall, Alive All Day, Worlds Apart and Part of the Story. He also has written a book of criticism, Dismantling Time in Contemporary American Poetry, and the non-fiction Acts of Mind: Interviews with Contemporary American Poets.
The editor of the magazine Poetry Miscellany, he has been a member of the Sarajevo Committee organized by PEN International. He has received the Order of Freedom Medal for literary and humanitarian work in the Balkans from the president of Slovenia and has served as a Fulbright Exchange poet to Yugoslavia. He also has received Guggenheim, National Endowment for the Arts, National Endowment for the Humanities and Witter-Bynner fellowships.
Jackson has edited two anthologies of Slovene poetry and lectured on translation issues at Oxford University, among other universities.
Sponsored by the English Department and Writers-on-the-Shore, his reading is free and the public is invited. For more information call 410-543-6030 or visit the SU Web site at www.salisbury.edu.