Thursday, June 30, 2016
SU Student Earns Critical Language Scholarship to India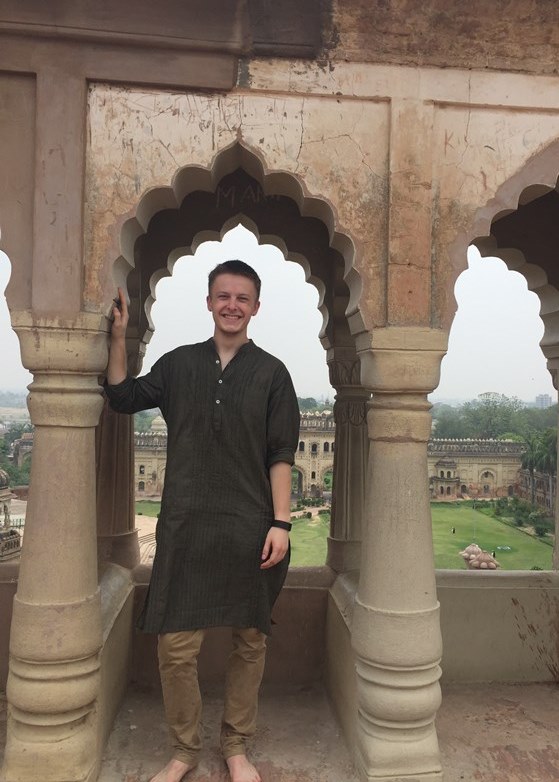 SALISBURY, MD---In Urdu, a language spoken across Pakistan and Northern India, the word "zabardast" means "great!" or "awesome!"

The term is one of many that Salisbury University sophomore Benjamin Lenox will learn and use this summer as he travels abroad on a Critical Language Scholarship, awarded by the U.S. Department of State's Bureau of Educational and Cultural Affairs.

"While simple, I really like 'zabardast' because of the way it rolls off the tongue and encapsulates enthusiasm," said Lenox, an equally dynamic international relations and political science double major from Odenton, MD.

Lenox will spend two months based in Lucknow, India, immersed in language and cultural studies. The scholarship provides graduate and undergraduate students with full funding for all program costs, including orientation, airfare, language courses, room and board, credit fees, travel excursions, activities and a stipend.

"This is a very prestigious scholarship," said Dr. Kristen Walton, director of SU's Nationally Competitive Fellowships Office. She believes Lenox is SU's first recipient.

"The intent is to take beginners, immerse them and have them gain multiple benchmarks of language learning in one summer," Lenox said, adding that he had "zero knowledge" of Urdu, before applying for the award. He wanted to study it, however, because, to him, it is a "unifying language" that has rich cultural traditions.

"Because of the tumultuous and lengthy history between Muslims and Hindus and India and Pakistan, a common language is needed, and this is where Urdu comes in," Lenox said. "Historically, Urdu was a literary, scholarly language, used for poems and official documents, evolving as different empires took control of the Indian subcontinent. After the dissolution of the British Raj, Urdu became a tool to unite Pakistanis and Muslims while being able to communicate in-depth with their Indian/Hindu counterparts. This drive for peace and unity that I see in Urdu's history is something that I plan to use."

Today, according to the CLS program, the languages of Urdu and Hindi are spoken by almost a billion people across Pakistan and India. Urdu is critical because of the South Asian region's growing role in international affairs and various career fields.

Increasing the number of American scholars who speak Urdu and understand the culture will help foster relations in that part of the world, Lenox said. He hopes to one day work for the U.S. State Department on affairs between the U.S., India and Pakistan.

Lenox attended high school in Rome, Italy, where his family lived for five years.

"The person I am today, the views I hold, and the way I approach the world would be fundamentally different had I not been granted the privilege of being exposed to so many cultures, languages and ways of life at an earlier age than most," he said.

This scholarship, he added, "opens up new opportunities" and allows him to grow even more as "a globally-minded human being."

Lenox is one of just 560 U.S. students selected for a CLS scholarship in 2016. Other languages being studied include Arabic, Azerbaijani, Bangla, Chinese, Hindi, Korean, Indonesian, Japanese, Persian, Punjabi, Russian, Swahili and Turkish. The goal, ultimately, is to build relationships with other countries.

During his first year at SU, Lenox was honored nationally as one of Campus Compact's 2016 Newman Civic Fellows for his impact on inclusiveness across campus. He also is part of the Thomas E. Bellavance Honors Program.

"Ben is one of the most warm, friendly and confident first-year students I have met," Walton said. "I believe he is a student to watch."

For more information, call 410-543-6030 or visit the SU website at www.salisbury.edu.